Intersex Greece is a nationwide collective of intersex adults, parents of intersex children, supportive individuals and related professionals located in Greece. Intersex Greece has at its helm a coordinating team of adult intersex individuals and parents of intersex children, being framed by inclusive and valuable partners. Aims and objectives of our team are to provide specialized, peer-to-peer support to intersex people and their families, to provide support, training and information on all issues related to the natural diversity of sex characteristics (intersex physiology), while working for visibility and intersex community building, raising awareness, promoting and safeguarding the rights of intersex people in our country, and – consequently – abroad.
Overall, we want to create/ spread awareness, reliable knowledge and social inclusion for the intersex physiology, so to be legally recognized by the Greek State and laws for what it really is: a natural state of human beings, that should be having equal rights with men/women. Today in our country – and not only here – due to gender norms and stereotypes, natural intersex physiology is still treated by a significant portion of the medical world and the public as a "pathology that needs to be medically normalized." However, the personal testimonies and life-experiences of intersex people in Greece and in the world, testify, in multiple ways, that in most cases these unnecessary medical interventions had traumatic and unpleasant consequences on their bodies and psyche. For this reason, we also claim the legal banning of cosmetic (non-medical necessary) genital surgeries to intersex babies and children, until they reach an age capable of free and informed consent. Until this happens, we want and we are able to provide peer-to-peer support to new parents-to-be, or parents of intersex children and peer-to-peer support to intersex individuals (subjected to medical interventions, or not). We want our voices to be as loud and formal as possible, so to be heard by the Greek State and its formal legal entities: in education, in public health, in social welfare, to Parliament members, to policy makers, to religion leaders and anyone in civil/policy command in Greece.
Important Note: Article 7 of the Draft Law (4491/2017) on gender reassignment/affirming surgeries of the Legislative Committee of the Ministry of Justice prohibited explicitly non-therapeutic surgeries on intersex infants but this article was "disappeared" before reaching the vote in Parliament. Currently. Law 4491/2017 on gender reassignment surgeries includes only the definition of "sex characteristics" in its preamble, thus leaving intersex people in legall gap and legally unrecognised.
In 2009 Rinio Symeonidou gave birth to an awsome intersex child, after she was first asked -in a very stressful and offensive way, by two ignorant and homophobic doctors- to terminate a desirable and healthy pregnancy in the 5th month and she refused. While realized that both the specific chromosomal diversity of her child and the term "intersex" were back then something unheard of, completely invisible and unknown in Greece, but also, completely pathologicalized, to the point that parents are pressured to terminate and intervene, Rinio researched the internet, until she found and connected with intersex people abroad. She soon spotted a few more parents of intersex children and some intersex adults (initially Lakis and two more mothers), and together they co-created the first informal, Greek intersex collectivity, as a secret and then closed group on Facebook. Later on, while her kid entered in education, Rinio realized that the exclusion, stigma, shame, taboo and invisibility of intersex people is the "norm" in the Greek school. In order to change this climate to inclusive, she sought and received the support of the teachers of RainbowSchool and the mediation of the Assistant Ombudsman for Children.
In 2017, in the context of the legal recognition of gender identity, with the support of the Transgender Support Assosiation and the RainbowSchool, Rinio informed the Greek Parliament about the existence of intersex people and the human right violations they suffer. And even if intersex legal recognition haven't been won, the intersex issue opened up to public discourse and many people (institutional or not) were convinced that there was a lot to be done. Today, that small group on facebook has more than 240 members and through it we are in contact with over 120 families and intersex people, from all over Greece, providing information and peer-to-peer support. As our Greek community continues to grow, we decided that we need to disseminate relevant knowledge to the general public, create visibility and actively and institutionally protect the rights of intersex people in the country, of any age or intersex divergence. To achieve this, we started the establishment of a nationwide organization for intersex people and their families located in Greece, without exclusions and regardless of color, gender, gender identity, sex characteristics, sexual orientation, disability, nationality, citizenship, economic, social or any other diversity.
Since May 2021, Intersex Greece is a member organisation of Organisation Intersex International Europe. OII Europe is the umbrella organisation of European human rights based intersex organisations, founded on Human Rights Day, 10 December, during the Second Intersex Forum at Stockholm in 2012.
Intersex Greece is based entirely on the volunteerism of its members, who are part of 4 cycles based on their degree of involvement and involvement in decision making: Base, Volunteers-Partners / Partners-Tides, Plenary and Coordination Team.
Starting with the Base, members can be further activated as Volunteers and then move on to the internal management circles of the collective: in Plenary and (through elections by the General Assembly) to the Coordinating Group council.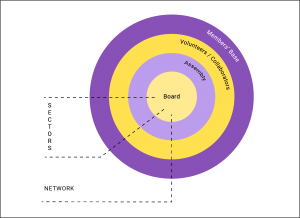 Kariofillis (Lakis) Kandylis
Kariofillis (Lakis) Kandylis is the first openly intersex activist in Greece, a co-founder and an active leading member of Intersex Greece. In 2007, Lakis found out he was intersex and contacted OII-Europe, while searching for info and peer-to-peer support. In 2015, he participated at "The initiative against homophobia" in the city of Xanthi, where he gave a speech and presented in greek the video "My sex and I". In 2016, he participated at the first autonomous Crete Pride presenting a relevant video. The same year, Lakis was invited in Thessaloniki by the Transgender Support Assosiation to the Trans Day of Remembrance, to present his paper "What is intersex?", plus interviewed by a Cypriot media, spreading the word in Cyprus too. In 2017, on behalf of the social space Kardelen (Xanthi), he informed teachers and politicians, raising awareness on intersex rights. In 2018, along with the organization "Colourful Multicultural Umbrella of Xanthi" Lakis gave a 3-hour speech on what is intersex, during the Radical Pride. In 2018, he presented his paper "Intersex you are born, you do not become one" were he analyzed issues that all intersex individuals face, criticizing intersex discrimination in every life aspect. In 2019, he was interviewed by Antivirus magazine and participated with Rinio Simeonidou in an article and in the special issue of Antivirus magazine that was dedicated to intersex persons and matters. Lakis is also an AutoCAD – CADware Designer, Interior decorator (Grupo Inforepresa Malaga member) and an assistant accountant.
Eleni
Eleni is an intersex woman who has survived an unprecedented exercise of medical power on her body at the tender age of 14-15 years. The unspeakable way she was treated (literally as a guinea pig) and physically violated during her stay in the country's public hospitals by so-called "specialist" doctors, led to her needless psychosomatic injury, the signs of which she is still trying to heal. Today she works as a teacher and psychotherapist. As a member of Intersex Greece, her primary concern is to protect the upcoming intersex generation from similar experiences. "Nothing for intersex people without their consent". Intersex bodies do not need fixing, they only need love and acceptance (like all bodies and all people, after all).
Rinio Symeonidou
Rinio Symeonidou, after loving, studying, working and teaching the art of sound for two or so decades, devoted herself to raising an awesome intersex child and at the same time to human rights activism. Feeling that gentle parenting with empathy and respect for the child changes the future world for the better, she engages in parenting and educational activism, with particular sensitivity to the rights and inclusion of minority children (disabled, disabled, LGBTQI +, refugee children .a.). She studied (once more), Humanities at the Hellenic Open University (Dep. of European Culture). Rinio is a founding member of the parent collective "Ensynaisthisi (Empathy)", of the Association for the Support of Dissability & Learning Difficulties of Cyclades "Dikaioma" (till 2018) & the collective "Intersex Greece". An active member of Rainbow School, she is also responsible for intersex rights at the Transgender Support Association. In October '17, she raised the issue of the violation of the human rights of intersex people in the Greek Parliament, people that to this day remain invisible to the Greek state. She is active in institutional and non-institutional information & training on the rights, visibility and inclusion of intersex people, in every aspect of life, providing interviews, talks and articles.
Vasso Vouvaki
Vasso Vouvaki is an intersex right activist and a body psychotherapist. As she specializes in skill development of vulnerable groups, she is vice-president of the NGO "komvos" (for the prevention and rehabilitation of any kind of addiction). She is also a volunteer for several mental health support organizations.
Petros Sapountzakis
Petros Sapountzakis has been an elementary school teacher for the last 20 years. He has dealt with various things in the past, from church studies to mountaineering trips. He continues to love nature, and believes that every child is a whole ecosystem. He is one of the founding members of the Rainbow School.
Dr Nikoletta Pikramenou
Dr Nikoletta Pikramenou is a researcher and legal expert on intersex rights. Her doctoral thesis introduced the first legal comparative study on intersex rights and it was published in 2019 by Springer under the title "Intersex Rights. Living between sexes". She has worked for several organisations and bodies on the promotion of intersex rights such as the EU Delegation to the UN in NY and Westminster Foundation for Democracy which is sponsored by the UK Foreign, Commonwealth and Development Office.
Ioanna
Ioanna. I am the sole parent of a wonderful daughter, who, at the age of 13, through medical examinations for delayed puberty, we discovered that she is intersex. Immediately I began my quest to learn, understand, and communicate to my child what I was told was 'too early to disclose', or 'she does not need to know'. Through the psychological support line 11528 BESIDE YOUhttps://11528.gr/ I heard for the first time about Rinio Symeonidou and her speech at TEDx and I got in touch with her. My child and I soon met Rinio, her awesome child and several other brilliant people, who now form our intersex family. And I soon realized that intersex people need to have a voice because they have a lot to say, because they have a lot of rights to claim. Because there are many intersex people and many families, who need to feel that they are not alone. And most importantly – not to feel the way I felt in the first days of the diagnosis – they are not the only ones.
Fotini Kokkinaki
Fotini Kokkinaki is our media & communication advisor. She is a journalist and communications manager of HumanRights360 and she is also a digital and social media marketing specialist. In the past, she has also worked as press officer for Doctors of the World Greece and she was a founding member of the "Democratic Education" program implemented by the National and Kapodistrian University of Athens.  She has studied Communication & Media and also holds a master degree in Political Science and Sociology, both at the National & Kapodistrian University of Athens. She is an elected board member of the Hellenic League for Human Rights.
We thank the human rights organizations that fund and support us!
and we are grateful for the support by our anonymous donors!